Demarcation of Vulnerable Site for YSB Based on Variable Temperature Values in Rice Fields using Remotely Sensed Thermal Datasets
Keywords:
Landsat 8, YSB, Plant hopper, GDP, and USGS.
Abstract
Rice has become a regular food for 3 billion people of this world which is around half of the global population. Rice contributes healthy for boosting the regional Gross Domestic Product (GDP) and per capita income. About 89% of total global rice production is obtained from south Asian countries. The contribution of China is the highest by producing 148 million metric tons which accounts for 30% of total rice produced globally while India was second with 166.42 million metric tons. Rice crop is very sensitive to climatic hazards and may be attacked by a large variety of insects e.g., yellow, white, pink stem borers, plant hoppers and buttles which finally leads to severe decline to productivity. The pest attacks are highly dependent upon local environmental factors e.g., temperature, humidity and rainfall etc. We incorporated temperature to examine the behavior of Yellow Stem Borer (YSB) at various temperature levels and demarcated hotspots which required pesticides throughout the life cycle of YSB. We obtained thermal datasets of Landsat 8 satellites and computed pixel-based temperature values to demarcate zones likely to be under pest attacks. These zones were mapped on the basis of real-time field observations obtained by installation of light trap into the rice fields. The results show that farmer need to adopt new technologies which will reduce the cost of pesticides by their application in vulnerable sites only. Remotely sensed dataset provided promising results.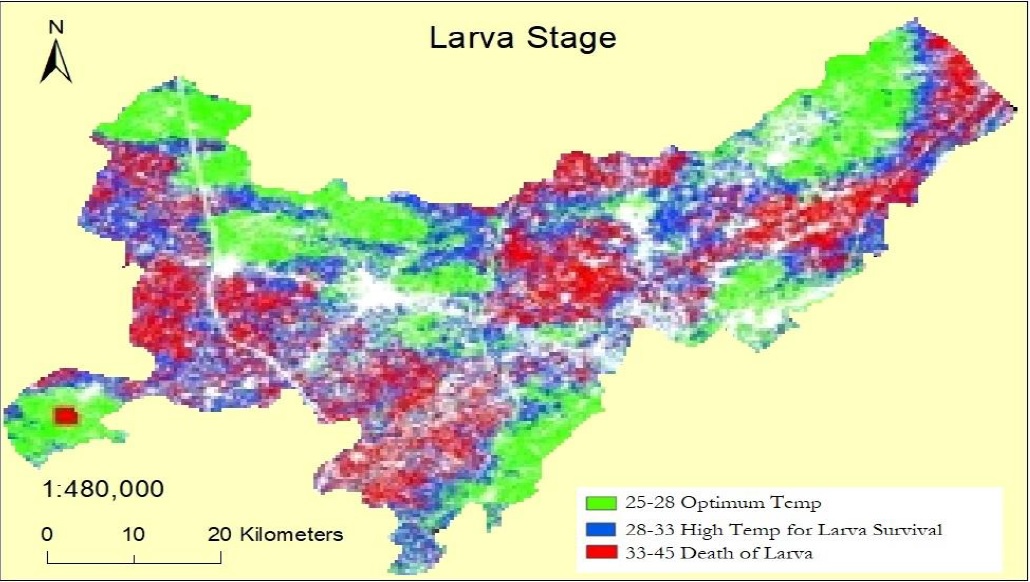 Additional Files
How to Cite
Azam Sohail, Azeem Akhtar, Hafiz Haroon Ahmad, & Muhammad Usman Tanveer. (2020). Demarcation of Vulnerable Site for YSB Based on Variable Temperature Values in Rice Fields using Remotely Sensed Thermal Datasets. International Journal of Agriculture and Sustainable Development, 2(1), 24–32. Retrieved from https://journal.50sea.com/index.php/IJASD/article/view/64