Enterprise Network Infrastructure Malicious Activity Analysis
Malicious Activity Analysis
Keywords:
Cyber Security, Network Attack, Intrusion-Detection Mechanisms (IDS), Multi-Layer Perceptron (MLP), Distributed Denial-of-Service (DDoS)
Abstract
Inter and intra-network connectivity have become a useful resource for accessibility and flexibility of data for different organizations. Online services are increasing day by day, everything is available online, it generates a huge amount of data, that require cyber security revolves for ensuring secure interconnectivity between devices. Because of an exponential increase in internet users and cyber-attacks, the data security and credibility of various organizations is on stake. In the continued development of the threat environment, cyber security experts deal with numerous threats on daily basis. As multiple attacks on computer networks and systems are becoming stronger each day therefore current security tools are often inadequate to resolve issues relating to unauthorized users, reliability, and reliable network security. To maintain a safe environment, Intrusion-Detection Mechanisms (IDS) enabled to control device functions and detect intrusions should typically be used to supplement with other protection strategies; for which conventional security methods are inadequate. Actual users expect their requested information to be processed in real-time, while malicious traffic needs to be mitigated just as quickly as possible. As traffic increases, this problem becomes more complex. This paper contributes a detailed analysis of network packets to find anomaly detection based on the UNSW NB 15 dataset and investigate the the difference between IP packet behavior for both malicious and legitimate packets. Besides we acquaint with new methodologies to illuminate and appraise the network attack in a very proficient way using different machine learning algorithms which will accomplish  locating the malicious traffic in the least execution time with precision.
References
Saravanan A, Bama SS. A review on cyber security and the fifth generation cyberattacks. Oriental Journal of Computer Science and Technology. 2019;12(2):50-6.
Lobastova S. Geopolitics of Cyberspace and Virtual Power. Journal of Liberal Arts and Humanities. 2020(3):97-113.
Celedonia KL, Valenti MW, Corrales Compagnucci M, Lowery Wilson M. Community-based health care providers as research participant recruitment gatekeepers: ethical and legal issues in a real-world case example. Research Ethics. 2021 Apr;17(2):242-50.
Maurya RK, Bruce MA, Therthani S. Counselors' perceptions of distance counseling: A national survey. Journal of Asia Pacific Counseling. 2020 Aug 1;10(2):1-22. https://psycnet.apa.org/record/2021-31046-001
Pattanaik SS. SAARC COVID-19 fund: calibrating a regional response to the pandemic. Strategic Analysis. 2020 May 3;44(3):241-52.
Cisco U. Cisco annual internet report (2018–2023) white paper. Cisco: San Jose, CA, USA. 2020 Mar. https://www.cisco.com/c/en/us/solutions/collateral/executive-perspectives/annual-internet-report/white-paper-c11-741490.html
Kaartinen H, Pieskä S, Vähäsöyrinki J. Digital manufacturing toolbox for supporting the manufacturing SMEs. In2016 7th IEEE International Conference on Cognitive Info communications (CogInfoCom) 2016 Oct 16 (pp. 000071-000076). IEEE.
Malwarebytes 2020 State of Malware Report [Online]. https://www.malwarebytes.com/blog/news/2020/02/malwarebytes-labs-releases-2020-state-of-malware-report
iDefense Security Intelligence Services. "Cyber-threats against 2018 PyeongChang Winter Olympics." February 7, 2019. IntelGraph reporting; iDefense Security Intelligence Services. "Secure Olympics Tokyo 2020: Is Japan Prepared for the Games?" April 29, 2019. IntelGraph reporting.
iDefense Security Intelligence Services. "Technical Analysis of HWP-based Malware Targeting Current Events." June 21, 2018. IntelGraph reporting; iDefense Security Intelligence Services. "Hacktivist Activity for Sept. 1-8, 2016." September 9, 2016. IntelGraph reporting; iDefense Security Intelligence Services. "Phishing Attack Targeting Tibetan Organizations uses the 2014 G20 Summit to Deliver MNkit and Lurk Malware." November 13, 2014. IntelGraph reporting
iDefense Security Intelligence Services. "SNAKEMACKEREL Campaign Likely Targeting NATO Members, Defense, and Military Outlets." December 21, 2018. IntelGraph reporting.
iDefense Security Intelligence Services. "Overview of Recent Ransomware Activity." March 29, 2019. IntelGraph reporting. https://www.coursehero.com/file/pr2clq/98-IntelGraph-reporting-97-ibid-98-iDefense-Security-Intelligence-Services/
Minnaar A. Cybercriminals, cyber-extortion, online blackmailers and the growth of ransomware. Acta Criminologica: African Journal of Criminology & Victimology. 2019 Aug 1;32(2):105.
Badawi E, Jourdan GV. Cryptocurrencies emerging threats and defensive mechanisms: A systematic literature review. IEEE Access. 2020 Oct 29;8:200021-37.
Price G. Cisco annual internet report (2018–2023) white paper. Cisco, San Jose, CA, USA, Tech. Rep. 2020.
Grass E, Pagel C, Crowe S, Ghafur S. A Stochastic Optimisation Model to Support Cybersecurity within the UK National Health Service. Available at SSRN 4042065. 2022 Feb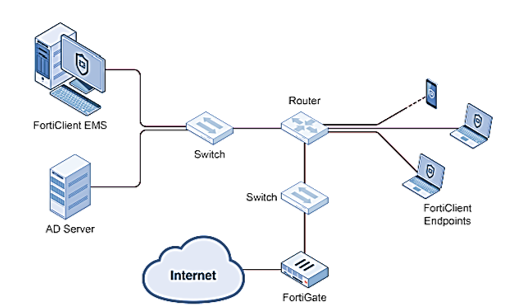 How to Cite
Ali, M. S. ., Ahsan Abbas, Faisal, A. ., Riaz, A., & Siddiq, I. (2022). Enterprise Network Infrastructure Malicious Activity Analysis: Malicious Activity Analysis. International Journal of Innovations in Science & Technology, 4(4), 982–997. Retrieved from https://journal.50sea.com/index.php/IJIST/article/view/410
License
Copyright (c) 2022 50SEA
This work is licensed under a Creative Commons Attribution 4.0 International License.