Isolation of Keratinolytic from Chicken (Gallus gallus domesticus) Farms and Assessment of their Efficacy in Feathers Degradation
Keywords:
Gallus gallus domestic, feather biodegradation, keratin waste, Bacillus sp
Abstract
Keratinolytic microorganisms and their enzymes are associated with poultry feather degradation. In the present study feathers of Gallus gallus domesticus (chicken) and surrounding dry soil was collected from a private poultry sheds located in Jahman village near Lahore. Bacteria were isolated by using enrichment techniques and screened for their proteolytic activity on skim agar. Isolated Bacteria were colonially, morphologically and biochemically characterized and named as SNC1, SNC2, SNC3, SNC4, SCH1, SCH2, SCH3 and SCH4. Results showed closed similarity of bacterial isolates with bacillus species. Effect of various media (LB-broth and Nutrient broth), pHs (7 and 8) and temperatures (4, 37, and 50℃) were recorded on bacterial growth and feather degradation. Bacterial cell densities and amount of keratin produced per gram feather weight were high at temperature 50℃ and pH 8.0. The feather degradation by bacterial isolates was confirmed at different time intervals using stereomicroscopes. The protein analysis of G. gallus domesticus feathers showed protein contents of 3.125g/100 ml. It was concluded high temperature and alkaline pH favored keratin production by bacterial consortia. Moreover, the bacterial isolates used in the current study have the potential to degrade poultry feather waste and extracted keratin is found to be promising for further exploitation of poultry waste.
References
Abdel-Fattah, A.M., El-Gamal, M.S., Ismail, S.A., Emran, M.A., Hashem, A.M., 2018. Biodegradation of feather waste by keratinase produced from newly isolated Bacillus licheniformis Alw1. Genet Eng Biotechn N., 16(2): 311-318.
Agrahari, S., Wadhwa, N., 2010. Degradation of chicken feather a poultry waste product by keratinolytic bacteria isolated from dumping site at Ghazipur poultry processing plant. Int J Poult Sci., 9(5): 482-489.
Avdiyuk, K. V., Varbanets, L.D., 2019. Keratinolyic enzymes: producers physical and chemical properties. Application for biotechnology Biotechnologia Acta., 12(2): 27-45.
Bach, E., Cannavan, F.S., Duarte, F.R., Taffarel, J.A., Tsai, S.M., Brandelli, A. 2011. Characterization of feather-degrading bacteria from Brazilian soils. Int Biodeter Biodegr., 65(1): 102-107.
Brandelli, A., 2008. Bacterial keratinases: useful enzymes for bioprocessing agroindustrial wastes and beyond. Food Bioprocess Tech, 1(2): 105-116.
Cappuccino, J.G., Sherman, N., 2002. Techniques for isolation of pure cultures. Cultural Characteristics of Microorganisms, Microbiology A Laboratory Manual, Pearson Education, 6: 13-23.
Dalee, A.D., Chehama, M., Sali, K., Hayeeyusoh, N., Hayeewangoh, Z. 2018. Keratinase-producing fungi from local environmental samples of Far South Thailand and their efficiency in hydrolyzing keratinous wastes. In Journal of Physics: Conference Series 1097(1): 012036. IOP Publishing.
Desai, S.S., Hegde, S., Inamdar, P., Sake, N., Aravind, M.S., 2010. Isolation of keratinase from bacterial isolates of poultry soil for waste degradation. Eng Life Sci., 10(4): 361-367.
Fakhfakh-Zouari, N., Hmidet, N., Haddar, A., Kanoun, S., Nasari, M. 2010. A novel serine metallokeratinase from a newly isolated Bacillus pumilus A1 grown on chicken feather meal: biochemical and molecular characterization. Appl Biochem Biotech., 162: 329–344. doi: 10.1007/s12010-009-8774-x.
Godbole, S., Pattan, J., Gaikwad, S., Jha, T., 2017. Isolation, Identification and Characterization of Keratin degrading microorganisms from Poultry soil and their Feather degradation Potential. IJEAB, 2(4).
Gupta, S., Singh. R., 2014. Hydrolyzing proficiency of keratinases in feather degradation. Indian J. Microbiol. 54:466–470. doi: 10.1007/s12088-014-0477-5.
Gurav, R. G., Jadhav, J.P., 2013. Biodegradation of keratinous waste by Chryseobacterium sp. RBT isolated from soil contaminated with poultry waste. J. Basic Microbiol., 53(2): 128-135.
He, Z., Sun, R., Tang, Z., Bu, T., Wu, Q., Li, C., Chen, H. 2018. Biodegradation of Feather Waste Keratin by the Keratin-Degrading Strain Bacillus subtilis 8. J Microbiol Biotechn, 28(2): 314-322.
Iqtedar, M., Qazi, J. I., Baqri, N., Mirza, S. S., Abdullah, R., Kaleem, A., Naz, S., 2017. Bioconversion of agro-industrial feather waste utilizing thermophilic Bacillus megatarium D1. Rom Biotech Lett, 22(1): 12234-12239.
Kim, J. M., Lim, W. J., & Suh, H. J. (2001). Feather-degrading Bacillus species from poultry waste. Process Biochemistry, 37(3), 287-291.
Kondamudi, N., Strull, J., Misra, M., Mohapatra, S.K. 2009. A green process for producing biodiesel from feather meal. Journal of agricultural and food chemistry. 57(14):6163-6.
Kumawat, T.K., Sharma, A., Bhadauria, S., 2017. Chrysosporium queenslandicum: a potent keratinophilic fungus for keratinous waste degradation. International Journal of Recycling of Organic Waste in Agriculture, 6(2): 143-148.
Kumar, M., Kumar, R., & Malik, D. K. (2016). Keratin degradation by bacterial strain isolated from poultry farm soil. J. Pharm. Res, 10, 113.
Laba, W., Rodziewicz, A., 2014. Biodegradation of hard keratins by two Bacillus strains. Jundishapur J Microbiol 7(2).
Laba, W., Choinska, A., Rodziewicz, A., Piegza, M., 2015. Keratinolytic abilities of Micrococcus luteus from poultry waste. Braz J Microbiol, 46(3): 691-700.
Lakshmi, P.J., Chitturi, C.M.K., Lakshmi, V.V., 2013. Efficient degradation of feather by keratinase producing Bacillus sp. Int. J. Microbiol. 608321. doi:10.1155/2013/608321
Lange, L., Huang, Y., Busk, P.K. 2016. Microbial decomposition of keratin in nature—a new hypothesis of industrial relevance. Appl microbiol biot, 100(5): 2083-2096.
Lateef, A., Adelere, I. A., Gueguim-Kana, E.B., 2015. Bacillus safensis LAU 13: a new source of keratinase and its multi-functional biocatalytic applications. Biotechnol Biotechnol Equip, 29(1): 54-63.
Li, F., Cheng, S., Yu, H., Yang, D., 2016. Waste from livestock and poultry breeding and its potential assessment of biogas energy in rural China. J. Clean. Prod., 126: 451-460.
Lowry, O.H., Rosebrough, N.J., Farr, A.L., Randall, R.J., 1951. Protein measurement with the Folin phenol reagent. J biol chem, 193(1): 265-275.
Lucas, F. S., Broennimann, O., Febbraro, I., Heeb, P., 2003. High diversity among feather-degrading bacteria from a dry meadow soil. Microb. Ecol., 45(3): 282-290.
Mazotto, A.M., de Melo, A.C.N., Macrae, A., Rosado, A.S., Peixoto, R., Cedrola, S.M., Couri, S., Zingali, R.B., Villa, A.L., Rabinovitch, L., Chaves, J.Q. 2011. Biodegradation of feather waste by extracellular keratinases and gelatinases from Bacillus spp. World J Microb Biot, 27(6): 1355-1365.
Onifade, A. A., Al-Sane, N. A., Al-Musallam, A. A., Al-Zarban, S., 1998. A review: potentials for biotechnological applications of keratin-degrading microorganisms and their enzymes for nutritional improvement of feathers and other keratins as livestock feed resources. Bioresour. Technol, 66(1): 1-11.
Pandian, S., Sundaram, J., Panchatcharam, P., 2012. Isolation, identification and characterization of feather degrading bacteria. Eur. J. Exp. Biol., 2(1): 274-282.
Peng, Z., Mao, X., Zhang, J., Du, G., Chen, J., 2019. Effective biodegradation of chicken feather waste by co-cultivation of keratinase producing strains. Microb. Cell Fact. 18(1): 84.
Poovendran, P., Kalaigandhi, V., Kanan, V. K., Rani, E. J., Poongunran, E., 2011. A study of feather keratin degradation by Bacillus licheniformis and quantification of keratinase enzyme produced. J Microbiol Biotechnol Res, 1: 120-126.
Riffel, A., Brandelli, A., 2006. Keratinolytic bacteria isolated from feather waste. Braz J. Microbiol., 37(3): 395-399.
Riffel, A., Lucas, F., Heeb, P., Brandelli, A., 2003. Characterization of a new keratinolytic bacterium that completely degrades native feather keratin. Arch. Microbiol, 179(4): 258-265.
Sekar, V., Kannan, M., Ganesan, R., Dheeba, B., Sivakumar, N., Kannan, K., 2016. Isolation and screening of keratinolytic bacteria from feather dumping soil in and around Cuddalore and Villupuram, Tamil Nadu. Proceedings of the National Academy of Sciences, India Section B: Biological Sciences, 86(3): 567-575.
Singh, S., Masih, H., 2015. Isolation of keratinolytic bacteria from soil for the bioconversion of the poultry feather waste. J Pure Appl Microbio, 9(3), 2281-2284.
Swetlana, N., Jain, P.C., 2010. Feather degradation by strains of Bacillus isolated from decomposing feathers. Braz J Microbiol, 41(1): 196-200.
Tesfaye, T., Sithole, B., Ramjugernath, D., 2017 c. Valorisation of chicken feathers: a review on recycling and recovery route—-current status and future prospects. Clean Technol Envir, 19(10): 2363-2378.
Tesfaye, T., Sithole, B., Ramjugernath, D., Chunilall, V., 2017 a. Valorisation of chicken feathers: characterisation of chemical properties. J. Waste Manag. 68: 626-635.
Tesfaye, T., Sithole, B., Ramjugernath, D., & Chunilall, V., 2017 b. Valorisation of chicken feathers: application in paper production. J. Clean. Prod, 164: 1324-1331.
Veenayohini, K., Sangeetha, D., 2016. Isolation and identification of keratinolytic bacteria from poultry waste and assessment of its keratinase activity on chicken feathers. Int. J. Appl. Eng. Res., 2(11): 396-402.
Xu, B., Zhong, Q., Tang, X., Yang, Y., Huang, Z., 2009. Isolation and characterization of a new keratinolytic bacterium that exhibits significant feather-degrading capability. Afr. J. Biotechnol., 8(18):4590–4596.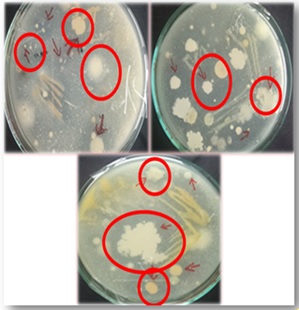 How to Cite
Bokhari, S., Yasmeen, R., Qurashi, A. W. ., Habib, S., & Rafi, U. (2021). Isolation of Keratinolytic from Chicken (Gallus gallus domesticus) Farms and Assessment of their Efficacy in Feathers Degradation. International Journal of Innovations in Science & Technology, 3(4), 142–151. Retrieved from https://journal.50sea.com/index.php/IJIST/article/view/81
License
Copyright (c) 2021 50Sea
This work is licensed under a Creative Commons Attribution 4.0 International License.