Role of Microbes in Modern Food Industry
Keywords:
Fermentation, Lactic acid, Nisin, Probiotics, Transglutaminase
Abstract
Microorganisms are an important part of the food industry as these are helpful in food preservation and production. Usually, microorganisms are used in making dairy products (yogurt and cheese), fermented vegetables (olives, pickles, and sauerkraut), fermented meats (salami), and sourdough bread. These are also utilized for the production of wine and several other beverages. Recently in the food industry, the use of microorganisms has started on a large scale for the production of chocolate, food color, from preserving fruits, vegetables and meat, and as probiotics which are helpful for human health. Different types of the microorganisms produce enzymes of nutritional value such as microbial transglutaminase for fish production. As the human population is increasing, we need to adopt new techniques for producing qualitative and nutritious food. These microorganisms can be used to cope with the shortage of food supply. This review will brief the role of microorganisms in above mentioned products as a leading step towards the modern food industry.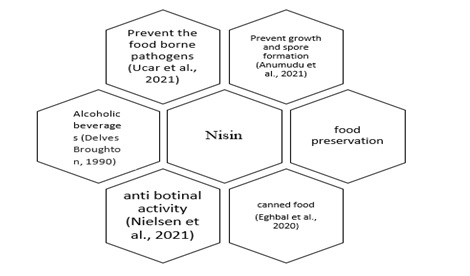 How to Cite
Mazhar, S. ., Yasmeen, R., Chaudhry, A., Summia, K., Ibrar, M., Amjad, S., & Ali, E. . (2022). Role of Microbes in Modern Food Industry. International Journal of Innovations in Science & Technology, 4(1), 65–77. Retrieved from https://journal.50sea.com/index.php/IJIST/article/view/82
License
Copyright (c) 2022 50Sea
This work is licensed under a Creative Commons Attribution 4.0 International License.